Thank you for all of your wonderful comments! I really do read each and every comment. I am so fortunate to have such a great group of new friends. I am approaching my 3 month blogaversary and can't believe all of the wonderful comments and people that I have met. I would have never of dreamed that I would have 97 followers!
Ok, now on to the fun stuff! I have been waiting to share my new patio table with everybody. This table had some major transformations done to it. I am so happy with how it turned out. I have seen several websites and blogs that have made tables like this. I don't know if you remember back in June when I bought this table for $5.00 at a yard sale?
I didn't like the legs on the table. I really wanted farm-style table legs. I was very patient and determined to find table legs. I found these table legs for $10.00 at a garage sale later on.
I had my very sweet husband detach the old legs from the table and attach the farm-style legs. He had to screw in the legs from the top of the table. You can hide the screws with wood filler. We also added some gorilla glue in-between the legs and the table for some extra support.
I sanded and primed the table to make it easier to paint.
Now, on for the paint transformation. I decided to paint the top of the table brown to make it look like it was stained. I used flat, brown exterior paint for the top and painted the legs with the chowder color paint that I had left over from my patio. The brown paint is the Color Place brand (from Wal-Mart) and cost aboout $7.00.
Here is a picture of the table with the umbrella and place settings.
Almost everything on this table came from a garage sale or the Dollar Store. The bamboo placemats are from the Dollar Tree. There was a fabric border around them that did not match my color scheme. I took a seam ripper and took the fabric off of the placemats. Aww, I think it looks much better now!
Do you remember my whale napkin holders? The napkins are really kitchen towels from the Dollar Tree. I think they look like the real thing! I am going to have to go back and buy some white kitchen towels, too. I can't wait until we have our next barbeque so I can show off my new table! I hope you have enjoyed this transformation as much as I have.
I am linking to: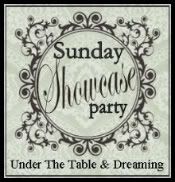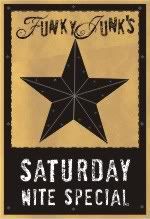 ;