Happy Summer sweet readers! I don't know why but summer has just been so much better this year. I think it has something to do with my silly two year old and her love for discovering new things. We have been spending as much time outside as possible. One of the things that I have really been working on getting completed is our little patio all spruced up. I have about a bazillion things left to do with it, but I wanted to share one of my projects that I did from this past weekend.
Remember my Mason jar solar lights? Well, I had a few solar lights left over from the Dollar Tree that I wanted to use . Of course, I tried to use them in the cheapest way possible. I bet you can't guess where I bought these baskets? I know I am so predictable, but I love my Dollar Tree!
I thought the baskets had the perfect shape to be hung like a pendant or they were just cute sitting!
The first thing I did was spray paint them.I used the colors Fern by Rustoleum for the stripe in the middle and Ivory by Krylon for the rest of the basket. I have found it easier to paint a whole object the color of the stripe and then go back and apply the color that will be the main color. I just used painter's tape to cover up the green to make the stripe.
After my baskets were done drying I was then ready to add the solar light. I just wanted the light and not the stakes so I un-screwed the top of the solar light off the stake and measured the solar panel (the black square) so I knew where I would be cutting the hole.
I used chalk to mark where I would be cutting the hole. The hardest part about making the hole was trying to get it started. I had to cut a few of the weaves in the basket and then I was able to work my way around to make a square.
I then took some gorilla glue and glued the top part of the solar under the hole I just cut.
The cut hole looked a little jagged so I hot glued some clothes line that I bought at the Dollar Tree around the square. I then added a little loop to make the basket hang.
I have a basket sitting on my patio and one on a shepherd's hook. I think these would also be great to use when camping or fun to hang from a porch. Not too bad for a few dollars!
Thanks for stopping by!
You can find me on...Facebook, Pinterest & Instagram if you would like to follow more of my projects.
I am linking to:
Little Miss Celebration
Debbie Doos: Pinterest Blitz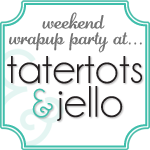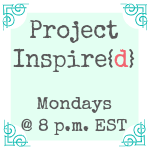 />